172Ri Immobiliser System, Thatcham Approved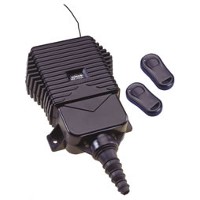 The system comes with two remote transmitters and can be connected to interface into a vehicle s existing central locking. The system can also be upgraded to a full alarm offering many of the features and facilities found in the more expensive Category 1 products. Thatcham category 2. Approval No: TE2 1006/0198.

SECURITY FEATURES -

On-board immobilisation
Self-arming immobiliser
Battery back-up siren (option)
Upgrade to alarm system
Auto re-arm alarm
Lock/Unlock with ignition (selectable)
Ignition anti-hotwire
Indicator / Park-light flashing
Door open audible warning
Anti-tamper security housing

CONVENIENCE FEATURES -

Central locking output (Neg Neg)
Boot release (option)
Window closure facility
Temporary sensor exclusion facility
Silent arm / silent disarm (selectable)
False-alarm nuisance prevention
Alarm trigger diagnostics
Rapid-test mode for installer
Courtesy light illumination (option)

USER INTERFACE -

Encrypted remote control - 2 Button

EMERGENCY OVERRIDE -
INTRUSION DETECTION -

Perimeter (Door, boot & bonnet)(alarm only)
Early warning sensor input (option)
Ultrasonic movement sensor (option)
Microwave movement sensor (option)

Phone: 01724 850950

sales@wnselectrics.com

Fax: 01724 857232
Related Products
239Ti Touch Key Immobiliser System, Thatcham Approved

The 239Ti is our most cost effective immobiliser with over four billion different code variants. The system is supplied with two robust touch keys, and an illuminated dash receptacle which doubles up as the systems status light. Thatcher category 2. Approval No: TE2 907/0198.
171PPi Passive Proximity Immobiliser System, Thatcham Approved

The 171 PPi transponder based system requires no conscious effort by the driver to operate the system. It works exactly as the factory fitted transponder immobilisers. The only difference is that the transponders are supplied separately and are not integrated into the vehicles ignition key. Other advantages are that there are no batteries to go flat or receptacles to be damaged. Thatcham category 2. Approval No: TE2 905/0198.