695 CAN BUS Alarm, Thatcham Approved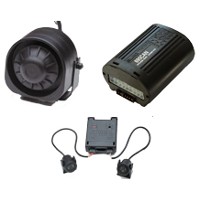 The Autowatch 695CAN alarm is a Thatcham approved CAT 2-1 upgrade alarm system, designed to be used on full CAN Bus, semi CAN Bus or conventional wiring systems. The 695CAN alarm can be fitted to any compatible new vehicle that requires an alarm. This system is designed to be easily operated from the vehicles original remote controls. However, if your vehicle has only one remote control supplied as standard, adding an additional Autowatch remote control will prove more cost effective than buying an original remote control.

SECURITY FEATURES -

Intelligent battery back-up siren
Auto re-arm alarm
Auto-arming alarm (selectable)
Lock / Unlock with ignition (selectable*)
Pager/tracking output
Negative output when armed
Ignition anti-hotwire
Indicator/Park-light flashing
Door open audible warning (selectable)
Arm/disarm siren chirps

CONVENIENCE FEATURES -

Central locking output*)
Boot release
Window closure facility (option)
Silent arm/silent disarm (selectable)
False-alarm nuisance prevention
Alarm trigger diagnostics
Rapid-test mode for installer
Temporary sensor exclusion facility*
Current draw in armed state - 20mA
Blue Flashing LED

USER INTERFACE -

Vehicle's original remote
Autowatch remote control (option)

EMERGENCY OVERRIDE -
INTRUSION DETECTION -

Perimeter (Door, boot & bonnet)
Ultrasonic movement sensor
Microwave movement sensor (option)
2 Zone wireless sensor facility
Wireless PIR (option)
Wireless reed switch
*NOTE THAT THESE FEATURES CAN ONLY BE UTILISED ON CERTAIN VEHICLES AND IN CONJUNCTION WITH USING THE AUTOWATCH REMOTE.

Phone: 01724 850950

sales@wnselectrics.com

Fax: 01724 857232